Hire the Clean Team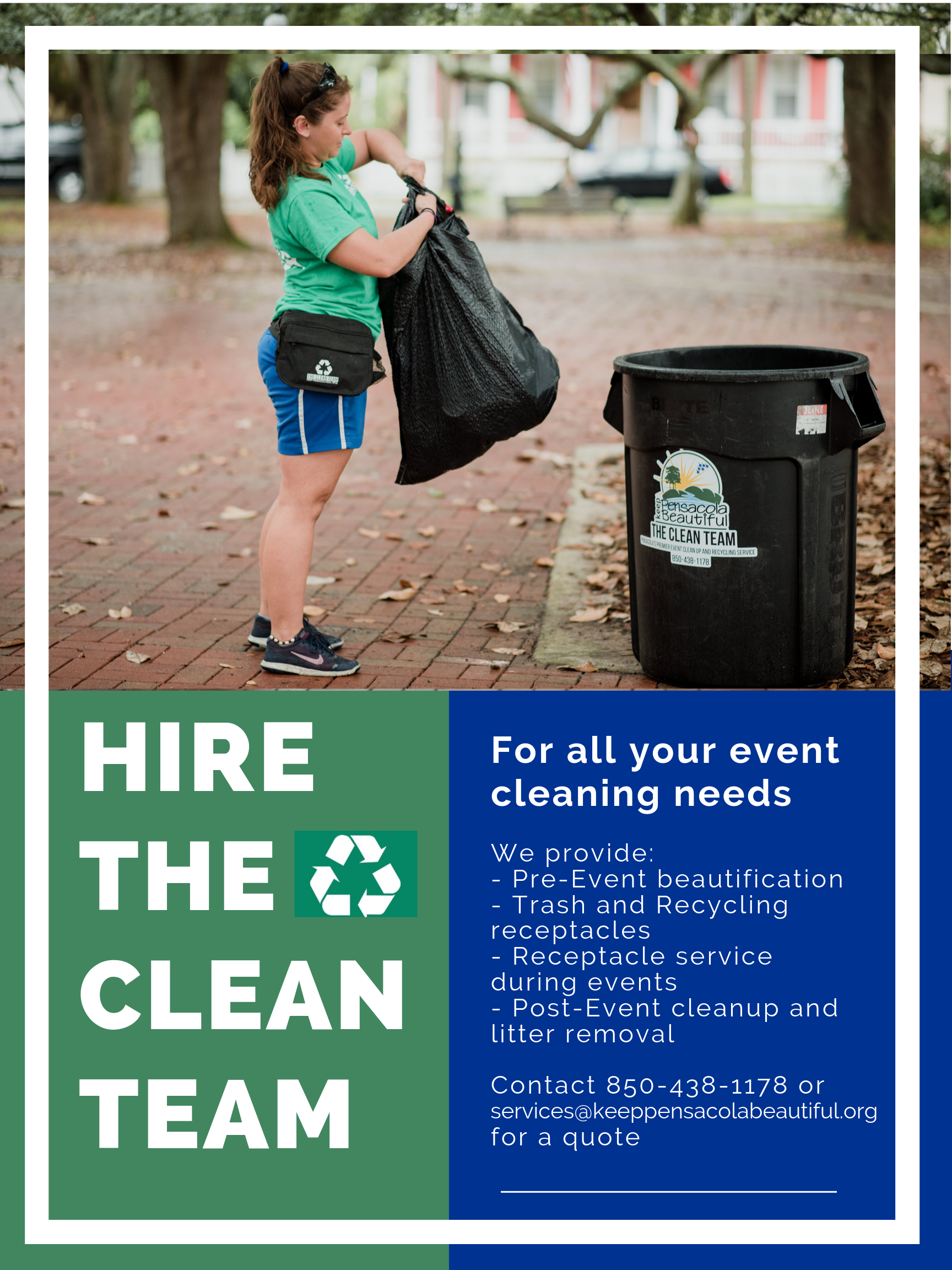 The Clean Team is the premiere event-cleanup and recycling service in the Pensacola area. We can provide your event with trash and recycling receptacles as well as staff to service the receptacles throughout the event and remove litter and debris from events grounds. We focus on getting the job done right and leaving the event space even better than we found it.
Have an upcoming event? Call us for an estimate! 850-438-1178
"We host a high-end whiskey- and oyster-themed event each fall in Pensacola and rely on The Clean Team both for oyster shell recycling and waste maintenance. Their team ensured the grounds remained pristine throughout our event and that our guests remained happy. Their crew even helped us move 400 pounds of ice when we ran short on hands. The Clean Team is professional, pleasant and reliable, and I'd recommend them to anyone."
— T.S. Strickland, President, Blue Collards Events, Peat and Pearls
"Our experience with [The Clean Team] was excellent. Their thorough attention to detail and quick responses kept our event running smoothly. Hosting our large annual event was much easier thanks to the Keep Pensacola Beautiful team!"
--Mike Kennison, Florida Fish and Wildlife Conservation Commission, Lionfish Removal and Awareness Day
"Punctual and professional."
--Michele Tierney, Race Director, Pensacola Runners Association 
"The KPB Clean Team has been instrumental in the success of many Fiesta events, including the Grand Fiesta Parade, Pensacola Crawfish Festival, and Pensacola Seafood Festival.  Thanks to the team's tireless hard work, these events are kept clean and tidy, making it a great experience for our vendors and festival-goers.  We are grateful for Fiesta's partnership with Keep Pensacola Beautiful!"
--Bridget Middleton, Fiesta of Five Flags, Seafood Festival, Crawfish Festival, Grand Fiesta Parade