The Offer Your Shell To Enhance Restoration (OYSTER) Project is a cooperative effort between Keep Pensacola Beautiful, Florida Department of Environmental Protection (FDEP), Southern Company, and the National Fish and Wildlife Foundation, our local sponsors and partners. The project seeks to collect oyster shells from local restaurant partners, which are used as substrate to restore oyster reefs in the Pensacola Bay System.
Once deployed, oyster shells act as a preferred substrate that attracts oyster larvae or spat. Oyster spat are mobile during the larval stage and move with currents and tides until they select a place to settle or "set." The larvae are selective and prefer a cleaner surface; this is why recycled shell is the preferred material.
How do oyster reefs benefit the environment?
Oysters filter nutrients, algae, bacteria, and fine sediments from the water, improving water clarity and quality. The adult oyster can filter 50 gallons of water in a 24 hour period. Oyster reefs provide habitat for many species of marine life and also act as natural breakwaters, protecting the shoreline from erosion resulting from waves and storms.
Where are the reefs within our local watershed system?
Since October 2005, FDEP has deployed hundreds of tons of clean recycled oyster shell into Northwest Florida estuaries to create oyster reefs in Blackwater Bay, East Bay, Bayou Texar, Bayou Chico, Bayou Grande, Perdido Bay, Choctawhatchee Bay, Bayou Garcon, and Rocky Bayou.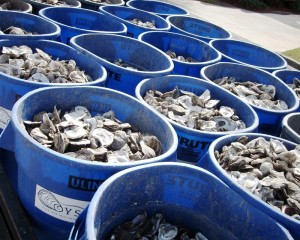 How does the collection process work?
The collection process is easy. Restaurants are supplied with containers for the discarded shell. Keep Pensacola Beautiful staff and volunteers routinely pick up the oyster shell from participating restaurants. The shells are then transported and dried at a local staging area prior to deployment to each permitted reef site.
What is the history and status of the oyster project?
The partnership has evolved since July 2011 and is ongoing subject to funding and the continued support of our dedicated partners.
The Bayview Park project in 2012 saw 84 tons of shell collected from local restaurants and 22 oyster reefs restored at Bayview Park. The Bayou Texar project in 2013 saw 136 tons of shell collected and 40 reefs built at 10 shoreline properties. In 2014-2015, the OYSTER Team secured funding from Southern Company/Gulf Power to construct 39 oyster reefs and restore an eroding shoreline on Bayou Grande. The shell will continue to be collected by KPB into 2017 and will continue to be used by FDEP in shoreline restoration projects. As long as there is shell to collect, there will be habitat to restore. We are always looking for partners and volunteers of all kinds!