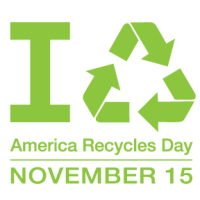 America Recycles Day
America Recycles Day, a program of Keep America Beautiful, is a nationally recognized day dedicated to promoting and celebrating recycling in the United States. Every year on or around November 15 (America Recycles Day) event organizers educate neighbors, friends and colleagues through thousands of events across the country.
Every year KPB hosts an America Recycles Day station that focuses on a specific recyclable material. In 2015 and 2016, we collected and recycled E-Waste! In 2017, we provided a tire recycling event for the residents of Escambia County where we collected 239 tires!
Check out this great video from Keep America Beautiful.