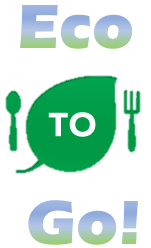 It's no secret that the Northwest Florida region has some of the most beautiful beaches, attracting about 17 million tourists per year spending over seven billion dollars. Beaches are the top tourist destination in the United Sates but with an increasing rate of pollution those numbers can soon fall.
In 2016, KPB volunteers have recorded that almost 300 tons of litter were collected. Most of this litter being either plastic or polystyrene (Styrofoam) which can take up to 500-1,000 years to degrade and can accumulate certain pollutants up to a million times the levels naturally found in seawater.  This liter, of course, does not occur on its own, it comes from activities done on land. About half of this litter is a result of to-go food service items, which presents an exciting opportunity for local businesses.
Our Eco-to-Go program is partnering with local businesses to reduce these common sources of litter. To become a member, simply ensure your business recycles or chooses not to use one or more products that are commonly found in litter, such as:
- Styrofoam cups, trays, and to-go boxes
- Single use plastics such as straws, cups, lids, silverware, and plastic bags
If interested, contact us via email or phone and provide us with your business's name, contact information, and which source(s) of litter you would like to eliminate. We will help create a litter prevention program for your business. This program may provide alternatives such as switching to paper straws instead of plastic or using products that are made from recycled material and can be recycled again. We can also provide a recycling bin for your customers to save these items from being litter and can be repurposed again!
Of course, being a member comes with more than just the satisfaction of helping the environment and the economy. As a member, you will be provided with an Eco-To-Go window sticker to notify customers that you are committed to reducing litter. Your company will also be listed on our website and be spotlighted on all our social media pages.
Together as a community, we can take steps to preserve our region's ecological and economic prosperity for generations to come!