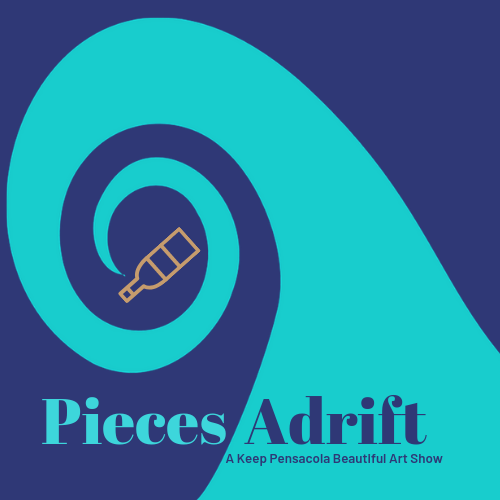 September 7th 2019
Keep Pensacola Beautiful and First City Art Center are hosting Pieces Adrift: an art show in which all of the pieces have been created using trash and debris found locally on beaches and waterways. 
Through this program, we hope to bring awareness to the littering problem that threatens our waters and to encourage new and productive ways of thinking about trash in order to promote recycling, reducing, repurposing, and reusing.
We will of course need volunteers for this event. Anyone interested in volunteering at Pieces Adrift should email volunteer@keeppensacolabeautiful.org for more information.
What is it?

Pieces Adrift is an art show that invites artists to create works using pieces of trash found on and in Escambia county waterways. This includes the beach, the bay, and the rivers. Keep Pensacola Beautiful will keep much of the trash that we collect this year, and artists can shop from our trash or go out and find their own. On September 7, 2019, the Pieces Adrift show and silent auction will take place at First City Art Center. All the proceeds from the auction will go toward Keep Pensacola Beautiful's Harmony Parks Pensacola and First City Art Center's scholarships for low-income families to participate in art classes and workshops.

How will it work?

Once the Artist fills out and submits an interest form, KPB will email them with more information. All Artists will have access to the trash we have collected and are welcome to collect their own items as well. Each piece needs to be at least 50% trash. Artists will have the option of donating their pieces to Keep Pensacola Beautiful. All donated pieces will be up for (silent) auction at the show. Artists have until the end of August to submit their pieces. Pieces Adrift will take place at First City Art Center on September 7, 2019.